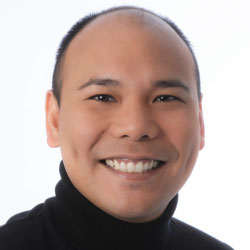 Brent Caburnay trained on full scholarship with the Giordano Dance Center, Hubbard Street Dance Chicago, Boston Ballet and the University of Michigan. While at the University of Michigan, Brent performed with Ann Arbor Ballet Theatre, Eisenhower Dance Ensemble, and with the University of Michigan Dance Department where he performed works by legendary artists Paul Taylor and Donald McKayle.
In 2000, Brent graduated with Honors from the University of Michigan and was recognized by the Dean of Students as outstanding student of the year. Upon graduation, Mr. Caburnay danced with the Joffrey Ballet, the Chicago Symphony Orchestra, the Lyric Opera of Chicago, and special television credits including the Miss USA Pageant.
Brent performed for 10 consecutive years in the Dance for Life finale choreographed by Randy Duncan. Along with performances in Dance Chicago, Brent has performed with the Dutch National Ballet and Southhold Dance Company. Brent has been a costume designer for Gus Giordano, Hubbard Street 2, Black Box Dance and Forum Dance Theatre. As the Ballet Master of Forum Dance Theatre, Mr. Caburnay's works have been seen throughout North America and Europe, receiving numerous awards including Dance Chicago "New Voices" award.
In 2012, Mr. Caburnay was recognized during the Regional Dance America National Festival with the "Outstanding Choreography Award" for his collaborative work with Eddy Ocampo entitled "Ehsaas". Additionally, Mr. Caburnay received the National Choreography Recognition Award at Regional Dance America's MidStates Ballet Association Festival in March of 2015 for his work entitled "Coda".